Is Branded Video Content The Future Of Video Advertising?
November 24, 2017
Have you ever wondered why they're called "soap operas"?
We'll give you a hint: It's not because of the squeaky clean plot lines.
Back when "content" was only a feeling and radio reigned supreme, women across the states were obsessed with dramatic serial broadcasts. Producers were looking to make more dough, so they rang up advertisers who needed to hit that exact target audience.
Some of the first sponsors of these serials were companies like Procter & Gamble, Colgate-Palmolive and Lever Brothers — hence the nickname, "Soap Operas."
As the format transitioned to television, the name stuck. One could say that these shows were among the first examples of branded video content.
Pretty nifty, huh?
What is branded video content?
Branded video content
 refers to sponsored video, now typically hosted online, that is not overtly promotional for the paying brand. This usually manifests as video that is educational or narrative-driven, with little reference to the fact that it is, essentially, an advertisement.
You may remember the concept in its original/written form, "native advertising." Native advertising, like branded content, adheres to the natural form of the viewer experience.
Think of a prescription drug ad in the middle of a magazine. You might get a full paragraph in before you realize what you're reading isn't
Cosmopolitan
's "Top 10 Bedroom Hacks," but in fact a paid ad. At least, that's what the sponsor was hoping for.
What's the difference between branded video content and video advertising?
In 2014, Google partnered with IPG media lab to conduct a survey on this very question. The answers, as one might expect, were a bit muddy.
Their results found that consumers don't see a huge distinction between branded video content and video advertisements, though branded video was found to be slightly "less like advertising" than the latter. Consequently, the videos seen as "less like advertising" were also seen as more informative, authentic and original.
One study even found that brand recall is
59 percent higher
for branded content than display and native ads.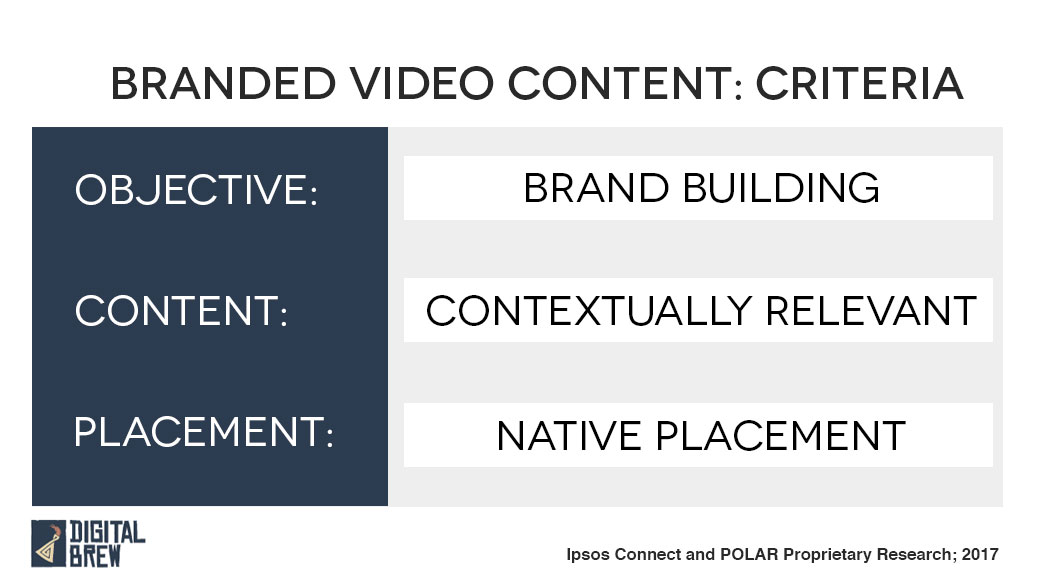 Pretty convincing, right? The problem is, most brand marketers are still wary of letting their content work ahead of their brand.
We spoke with
Kaaren Whitney-Vernon
, Senior Vice President of Branded Entertainment at Shaftsbury, about this very issue. She's coined her own term:
helicopter marketers
.
"We're not allowing our brands to grow," Whitney-Vernon said. "We're always forcing our logo."
Whitney-Vernon, who's spearheaded a number of successful branded content series like
Upstairs Amy with Walmart
, believes the real power is in understanding your market.
"You've got to think about the audience first. This isn't about your logo placement."
So how do you make sure you're not just commissioning a thinly veiled advertisement?
You know it's an ad, and not branded content, when…
Your logo appears in the first 30 seconds

After watching, a viewer could recite a laundry list of facts about your product

It's formatted for a 30-second TV spot, even if it's appearing online

It

disrupts

the conversation, rather than

participating

in it
Case Study: Take Note
In this sentimental piece, we follow the journey of one couple through a lifetime of handwritten notes.
Title: Notes – a life story, a love story
Brand: Take Note, a Toronto stationary store
Producer: BBDO TORONTO
Is "Notes – a life story, a love story" an advertisement or branded video content? Let's break it down and take a look.
This video IS:
Narrative-driven.

Lengthy (3:49, to be exact).

Creative, heartwarming and engaging.
This video IS NOT:
Formatted for a TV spot. It could reasonably be chopped up into one, but the story would lose significance.

Disruptive.

Overly promotional. The viewer has to watch for nearly 4 minutes before seeing Take Note's logo.
Conclusion: BRANDED VIDEO CONTENT.
"Notes – a life story, a love story" is an excellent example of branded content that connects with the viewer without disrupting their web experience or being too sales-y. It is exactly the kind of content that viewers consider authentic and original.
"Pivoting To Video" (Working With Publishers and Media)
Let's turn the table for a second. We've seen an excellent example of what can happen when a brand partners with a
video production company
, but there's another major player in the branded content equation: media and publishers.
In July of 2017, MTV made shockwaves in the publishing world when they announced the end of
MTV News
' online hub of longform editorial in favor of short-form video.
The aftershock on Twitter was most visible, as nearly the entire
MTV News
staff (
including the video team
) was laid off. The shift sparked a national conversation on what "
pivoting to video
" really means for publishers, journalists and content creators on the web.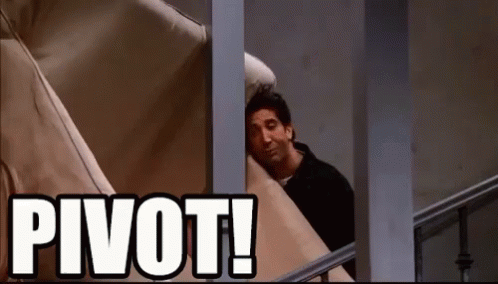 With all that controversy, then, why pivot to video in the first place?
The answer lies in two factors running rampant in the internet age: monetization and audience demand. Let's look at some stats:
US adults spend upwards of

5.5 hours

with video content each day.

84 percent of viewers are watching social video via mobile.

51.9% of marketing professionals worldwide name video as the type of content with the best ROI.
You can see how, when looking at those numbers, a publisher's first instinct would be to shift to producing video content. After all, when everything is happening on video already, there's a lot more room to sell video advertisements.  
Translation: more $$$.
Case Study: Complex
When you're talking Internet media companies in 2017, it's impossible not to mention
Complex
, the massive hip-hop and pop culture magazine-turned-website-turned-YouTube phenomenon.
Complex
offers a perfect example of what branded content can look like when it's explicitly approached with an editorial eye. Let's take a look at this episode of "Sneaker Shopping," the massively successful web show where celebrities go shopping for shoes.
Title: Gucci Mane Goes Sneaker Shopping With Complex
Brand: McDonalds
Producer: Complex
Is this an example of branded video content? In our opinion, no — not really. Here's why.
This video IS:
Entertaining, creative and engaging.

Lengthy (7:34).

A completely standalone piece.
This video IS NOT:
Anything that could be remotely considered a "commercial." The stars don't even eat McDonald's french fries the way they do on James Corden's Carpool Karaoke.

Disruptive.

Overly promotional, though the McDonald's logo does appear in the first 3 seconds of the video.
Conclusion:
SPONSORED
VIDEO CONTENT.
We show the example of
Complex
's Sneaker Shopping not to nitpick, but to show the diversity of what video content can look like on the web. Since McDonald's plays such a minor role in the content of the video and could reasonably be replaced by any paying brand, we think it's important to distinguish this piece as
sponsored
content, not branded.
Sneaker Shopping is an excellent example of what can happen when a company approaches a publisher directly, a tactic that's certainly important to keep in your advertising toolbox. When your goal is brand recall and engagement, however, we don't see this as the best way.
So, who should really "pivot to video"?
You!
Without getting into the sticky specifics of this massive media shift, there's one thing that is certain:
if there's an appropriate time to be producing high-quality video content, it's right now
.
How To Produce Engaging Branded Video Content
Now that we understand the basics of the branded content industry and how we got to where we are today, it's time to get down to the nitty-gritty of how you can produce video content that connects with your target audience.
Best Practice: Make Your Brand The Star
Perhaps the most visible form of branded content right now is
The Lego Movie
. A cynic might say that the entire feature-length film, which grossed $257.8 million in 2014, is just a giant Lego commercial. That would be fair, but "insanely successful branded video content" is certainly a better description.
Much like Marvel or Disney movies,
The Lego Movie
is an arm of a self-sufficient franchise. It was a genius leap of faith, one that reignited the Lego brand for millions of children.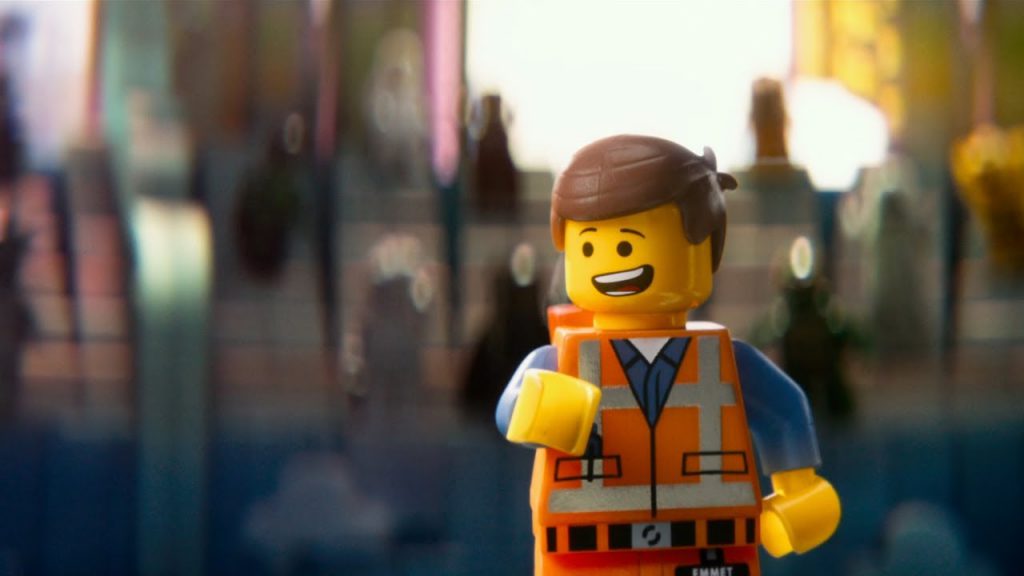 Though you may not have the resources to turn your company into an international phenomenon, you do have the ability to create a narrative around your brand that connects with your viewers.
The focus of your branded video content should always be creative storytelling, which is why it helps to work with an experienced video production partner.
Best Practice: Be Your Own Commercial
Listen, we know it's a hard sell. Investing money into content marketing strategies is big enough already, but investing in video
and
not pushing your product or service? That may be too much to bear.
The great thing about implementing a branded content strategy is that when you invest in quality storytelling, it gives you leverage to self-promote.
Case Study: Houzz
Let's look at the
My Houzz
series. The concept is familiar to any
HGTV
buff: a celebrity spokesperson kicks a loved one out of their home for a week, and, using Houzz's platform, hires an experienced designer, purchases new furniture and completely reimagines the space.
Title: My Houzz: Mila Kunis' Surprise Renovation for Her Parents
Brand: Houzz
Producer: Shed Media
This series very tightly walks the line between branded video content and advertising, but we're going to call it branded. Here's why.
This video IS:
Unique, entertaining and heartwarming.

Lengthy (19:25!)

Self-promotional – the celebrity spokesperson spends a large portion of the video talking about the Houzz platform, benefits and features.
This video IS NOT:
An ad. It could not be used as a pre-roll advertisement or TV spot.

Hosted or produced by a publisher or media outlet.

Disruptive. Though the viewer has to sit through the Houzz spiel, they're also watching the content completely on their own accord.
Conclusion:
STANDALONE BRANDED VIDEO CONTENT
.
Best Practice: For Younger Audiences, Be Educational
When it comes to
marketing to Generation Z
, video is the answer. In fact, 89 percent of Generation Z women polled by AdWeek said they actually enjoy content created by brands.
That's because, to these women, branded content is engaging and authentic. 68 percent said they were "highly likely" to share the content to their own social feeds.
Now that's engagement.
Case Study: U by Kotex
Title: Do Vampires Get Their Periods? | Carmilla | U by Kotex
Brand: U by Kotex
Producer: U by Kotex®, Silas University's Perfectly Safe Student Services, KindaTV
Check out the top-rated comment on this installment of Carmilla, a series produced by U by Kotex educating young women about their periods.
Can we just talk about that totally incredible display of brand engagement and loyalty for a second? I don't know caramel coffee or which feminine hygiene products she purchases, but I'd take the odds that it's U by Kotex.
This massively successful series is one of the best examples of what true branded video content has the power to be: self-sufficient, enjoyable and socially relevant. Carmilla, a lesbian vampire, connects with teen fans in a real and demonstrable way
and
teaches them about their body and menstruation.
This video IS:
Educational. Viewers learn about real topics, like how the suffrage movement changed tampons and pads, and fantasy topics that contribute to the show's storyline ("Do vampires get their period?").

Longer than a commercial (3:25).

Very softly branded. U by Kotex tampons spell out "Silas" in the background, and Carmilla holds a pad while talking.

Hosted on KindaTV's YouTube channel. KindaTV is a feminist channel on YouTube, one of many blurring the lines between "content" and traditional TV.
This video IS NOT:
An ad. It would never work in a context where the viewer doesn't actively seek it out.

Disruptive. The comments clearly show that viewers are there for the characters and they don't feel they're being duped into a commercial.
Best Practice: Skip The CTA
Unlike traditional content marketing, the key to successful branded video is to keep the viewer as detached from the sales process as possible. This means no CTA, no matter how much the idea makes you cringe.
Instead, opt for a simple logo at the end or beginning of your video. Studies have repeatedly shown that if the viewer genuinely connects with the content (which they should), they'll seek your brand out themselves.
Best Practice: When Possible, Invest In Influence
Though the term "influencer" makes a lot of eyeballs twitch, it's absolutely undeniable that there's a new form of celebrity in the internet age. Where agencies pay football players and actresses thousands of dollars to appear in sponsored ads, there's a whole lot of opportunity to find trustworthy figureheads in
any
industry to co-sign your brand.
Those co-signs carry weight, too. That same AdAge study found that 85 percent of Generation X women surveyed were "highly likely" to purchase a product after viewing content produced by an influencer.
Recap: How To Produce Spectacular Branded Video
So, what did we learn?
Don't be a helicopter marketer. The term, coined by Kaaren Whitney-Vernon, refers to brand marketers who need to immediately throw their logo on everything. Instead, let your stellar content speak for itself.

For more eyeballs, consider collaborating with publishers and influencers. For the best ROI, invest in creating your own standalone content hub.

Find a way to make your brand the star of the show. Consider creating a narrative that audiences respond to. Research, research, research!

To reach Generation Z, be educational. Don't use video as a sales tool.

Leave out the call-to-action. Let your content do the work.
Digital Brew is an award-winning video production company passionate about visual storytelling, we are also recognized as a
Top Branding Agency
 on DesignRush. To talk with someone about using video to stand out online,
click here to schedule a call
.