Brewmaster Spotlight: Tim Spencer
May 23, 2022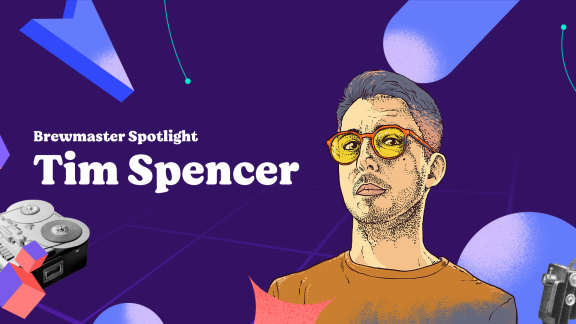 Name: Tim Spencer
Nicknames: Moth — ti-MOTH-y
Hometown: Hopewell, NJ
Where to find you online: Fullgrain.co
When did you start at Digital Brew?
May 16, 2022
What the heck do you do here?
Art Director for 2D motion design. Help out with conception and visualization of animated content. Illustration, graphic design and motion design.
What are you listening to lately?
I suck music down like Coca-Cola. So it varies quickly. Bands "Puppy," and "Turnstile" are in my rotation. But when I'm working I listen to a lot of Movie soundtrack music like "The Shape of Water."
What is your favorite movie of all time? Why?
Forest Gump. The concept of somewhat handicapped individual living an extraordinary life and in so many diverse ways is inspiring. There are so many opportunities in life for success and happiness.
Favorite thing about working at Digital Brew:
Doing what I love with people that love doing the same thing.
Most visited webpage:
I try to stay off the web when I'm not working. So probably Dribbble.com for inspirational purposes.
What do you do in your free time:
What free time? I'm real into playing barbies at the moment. I've got a 4 year old daughter who I spend most of my time with. Aside from that, I like to write and record music, paint, and explore nature.
Favorite podcast:
"Hidden Brain" or "This American Life"
Best thing about living in Houston:
The trees and access to the parks
Favorite quote?
"Do unto other as you would have others do unto you"