Choose The Best Video Hosting Sites for Your Business
April 5, 2015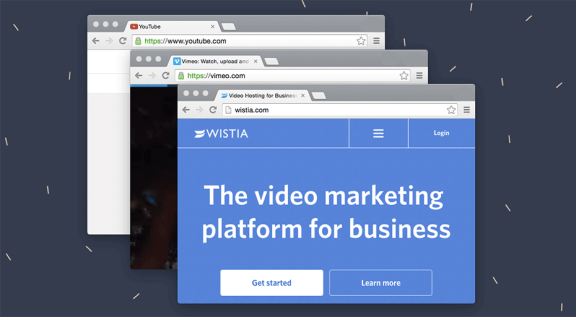 YouTube
or perhaps you're planning on using your video for an upcoming social media campaign. But if you're considering adding your
video to your website (which you should for so many great reasons)
, then we recommend you use a video hosting platform. Why? In short, it's the easier and secure way to deliver your awesome video. Here are some problems you could bump into when hosting videos on your own website:
Video files take up space and may blow up your server. Video files are large. Now, imagine a couple 100 people trying to watch this one video on your website at the same time – yeah, your server's not going to be happy.
No one likes slow loading videos. An unhappy server will slow down loading time, cause your video to pause unexpectedly while being watched and, ultimately, turn off viewers.
Video quality may suffer. Different browsers need different formats and sizes. Sure, they can be converted but who's got time for that?
Okay, enough about the
horrors of hosting your own videos
. Let's talk about the awesomeness of video hosting sites and how they can help you avoid these issues and more. These hosting services let you upload videos to their platform and store the content on its server, making it easy to embed and share your videos. It's basically your method of distributing the content. They ensure your video is delivered to viewers without a hiccup and many of them come with bonus features like video analytics and the ability to create custom video players.
There is a variety of hosting sites out there so let's check out their pros and cons.
1. Good ol' YouTube.
Over a
billion users have made YouTube the most popular video sharing platform
in the world. So it's no surprise this is one of the first options to come to mind. It's free, easy to use, and a great way to get lots of eyes on your video. YouTube's advertising and audience targeting features make it an excellent choice for businesses that want to extend their reach through paid promotion.
But this popular free video streaming service comes with a price – in the form of aggressive advertisements, limited opportunity for customization, and poor conversion, meaning that your footage won't look as good as it does in the original source. So what's the verdict?
If you're not looking to invest in a video hosting service just yet, then YouTube is a great start.
Even if you choose to use an alternate hosting service, we recommend adding YouTube to your video marketing tool box. Putting your video content on the world's third most visited website has its perks – like more visibility, more social shares, and an increase in your website's authority, which puts you in Google's good graces.
2. Vimeo
Vimeo
is great for the creative professional or simply those who desire better quality and control. A huge plus is that you'll never have an ad interrupt your videos. Other great features include default HD streaming, better video analytics (when compared to Youtube), and video player customization – all which are included in their free Basic membership.
Pricing options range from $59.95 to $199 a year
depending on the amount of storage needed and other features like expedited support and advanced stats and customization. Some may consider Vimeo's Basic membership a bit limiting, but, when it comes to video hosting services, you get what you pay for.
Compared to other video hosting sites, Vimeo is one of the best affordable options.
3. Wistia
If you're serious about your video content marketing, and you're ready to bust out the big guns, then Wistia is the way to go. What makes
Wistia
different? They know video. They provide a great all-around hosting platform that caters to all your business' video needs. Wistia's delivery speed and reliability, customizing options,
video analytics and video marketing tools are by far the best
. And its first-rate customer support and awesome training videos truly set them apart. Sounds amazing, huh? So what's the catch? Wistia can be quite costly. Their free plan includes all Wistia features and 5 videos. After that,
pricing ranges from $25 to $300 per month
depending on the amount of videos you want to store. Another possible con, unlike YouTube and Vimeo, Wistia is a private sharing site. This means your content will not be searchable and can only be seen by those who are granted access to it – and this might be the case with other hosting sites. That's where services like YouTube and Vimeo will still come in handy.
Be prepared. You're most likely end up using more than one platform. 
Of course, there's more to these hosting services and there are many options out there (check out
SproutVideo
,
Viddler
, and
Vidyard
). We encourage you to do your own research. Identify your business' video goals and choose a video hosting platform that works best for you. Happy video hosting!