Why an Explainer is the Ultimate Way to Promote Your App
September 29, 2015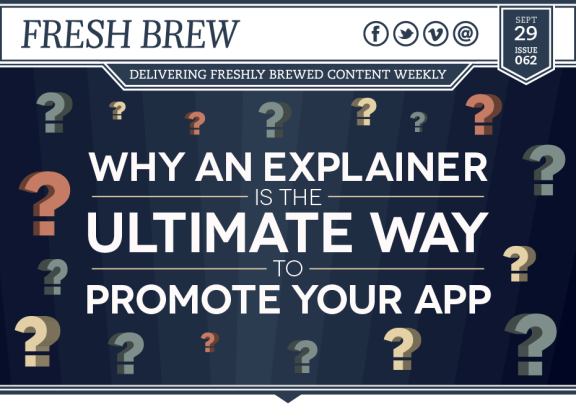 In today's vast app market, it's almost impossible for new apps to find their way to success on their own. So how do you get your awesome new app to stand out from a pool of a thousand other apps? You guessed it – animated explainer videos and apps go together like peanut butter and jelly. Animated explainers are fun, effective and the most successful marketing tool to promote your app. Not quite sure? Here are a few reasons why…
It's the Perfect Pitch
The average attention span of a human is seven seconds – seven! That's all the time you have to sell your app to someone. Animated explainers are engaging, to the point, and allow consumers to grasp the concept of your app in a matter of seconds. Explainers increase the understanding of your product by a whopping 74%. This animated explainer video (handcrafted by yours truly) is a great example of a perfect 60-second pitch:
DraftKings Basketball
from
Digital Brew
on
Vimeo
.
People Dig It!
People love a good story. Explainer videos don't just explain your app. They help you create a bond between your brand and your targeted audience. A compelling script and relatable animated characters further fortify that bond and turn potential clients into real ones.
Guaranteed Results
The numbers don't lie. Videos are the best content for app promotion. They bring in 41% higher click-through rates and 30% higher conversion rates. Also,
animated explainers are proven to increase sales
with 85% of customers more likely to buy a product after watching an explainer video. Those numbers are hard to beat! In a nutshell, this eye-catching tool helps simplify the complexity of your app and communicate its functions clearly. A well-crafted animated explainer video is the best way to increase ranking and boost the sales of your app. Ready to try one now?
Let us brew your big idea
into a memorable story that sells!