How to Build Trust with Your Audience
June 1, 2021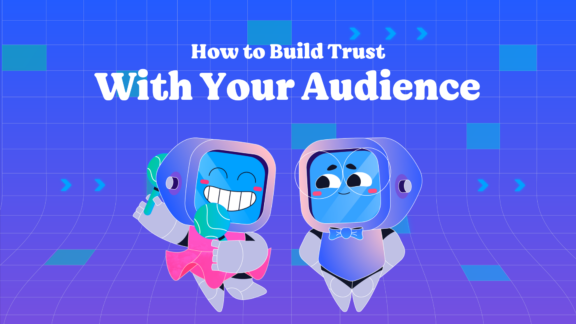 New customers are fantastic. They're a great way to tell how well your marketing strategies are working. But, new customers can come and go, so what you really want are repeat customers. And how do you get repeat customers? You build trust with your audience base.
As we're rounding up on our 10th year in business (yay us!), we've been building trust with our audience for a while, so if you're in need of some tips, you've come to the right blog!
Be Present
Your customers want to know you'll be there for them when they need it most. Having exceptional customer service and short response time to emails helps your current clients or customers build that foundation of trust. If you can respond to emails within the hour they're sent, you're golden. If not, put together a plan with your audience-facing workers on how they can cut that time down. And, if you have a phone number, make sure you're answering it! There's no worse look than telling someone they can call you and then not answering the phone for weeks.
Having a social media presence really helps build trust as well. Not only because it's a great way to update your followers on what's going on in your business, but it's a perfect way to quickly interact with potential customers. Answer questions, ask opinions, and update business info on your social accounts, and you're one step closer to establishing a strong bond with your customers.
Be Transparent
Your customers can smell BS. A mile away, they'll know whether or not what you're telling them is the truth. Always be truthful. Most of your clients or customers will understand that you aren't a robot company; your business is made up of humans, and humans make mistakes. In fact, it's better to fess up to mistakes when they happen, because your client or customer will know that if something happens again in the future, you'll be transparent with them.
This also prevents you from being caught in a lie, which is one of the fastest ways for your company to tank nowadays. The self-proclaimed detectives of the internet know exactly where to look to find if a company is up to some shady business, or lying to their customers.
Be Seen
One of the best ways to build trust is to put a face with your company. Clients want to know who the man or woman behind the curtain is; who is it that they're trusting to get the job done or create a product for them. So show them your face! Or all of your faces! Company intro videos are the perfect way to do this. They can hear directly from the owner and employees of the company, and hear a little bit of your story in the process.
Consumers trust other consumers, so another great way to show your face and build trust is with testimonial videos from clients you've actually worked with. Don't hire actors to pretend that they've worked with you, actually let your customers speak for you!
Build Trust Together
If this blog has inspired you to work on trust-building with your audience, great! We'd love to help you do that with a custom testimonial or company introduction video! Videos like this can do wonders not just for building trust, but are excellent tools to have in your marketing toolbelt. So, what are you waiting for? Pick a time to chat with us here.
Let's brew this!