How to Stay Sane When Working from Home
March 27, 2020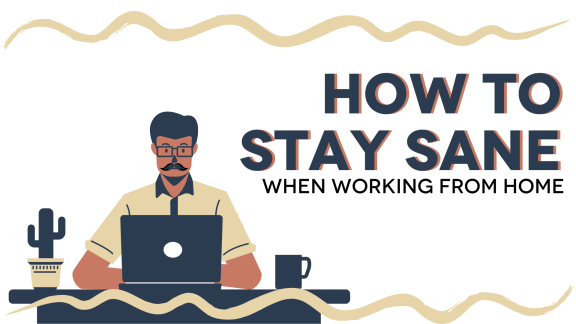 What a crazy couple weeks it has been, no? If you're like us, you're keeping your employees and workplace safe by having everyone work remote if possible. We're trying not to go crazy with the isolation, so we had a little virtual Digital Brew meeting where we shared some tips and tricks on how to stay productive and happy while working from home.
So, without further ado, we present to you Digital Brew's Top Ten Tips for Working from Home.
Our Top 10 Tips
Create a schedule. Seems pretty simple, but it actually does wonders. Write down your work hours and breaks on a sheet of paper (or whatever you take notes on) and stick to it. Be as specific as possible; The more regimented you can make your schedule, the easier it will be to follow, and finish your to-do list on time!


Dress as if you're going to work. We know, it's so convenient and comfy to just stay in your pjs, but when you pencil in time to "get ready" to go to work, not only will it help you feel fresh, but it will also help you feel more productive!


Make your bed. Why? Well, again, we're all about productivity over here at DB. When you do simple, everyday chores like making your bed and brushing your teeth, it helps bring a little more regiment to your schedule which in turn will help increase productivity.


Take a walk. Fill your lungs with some fresh air! Taking a break or two for a nice little walk isn't just good for your health (both physical and mental) but it'll help you be more creative when you get back into the grind. Just be sure to practice safe social distancing!


Don't let your side projects die. A couple of our Brewmasters pointed out how important it is to have other side projects and hobbies so you can look forward to something after work. Typically when you're working in an office, you may look forward to crashing on your couch and binging some Netflix. But when you're working from home, that no longer sounds as appealing. Don't let your hobbies die, or try to pick up a new one!


Noise canceling headphones are your friends (especially when you have roommates). Find that music that helps you get down and dirty with your work. We have a DB playlist where we like to share some of our favorite songs to work to. And maybe invest in a nice pair of noise-cancelling headphones, because if you have roomates who are also working from home, it helps to tune their work out so you can stay in your zone. 


Have a clean workspace. A clean space is a happy place. When your sacred workspace is cluttered, so is your mind. In order to keep the content you crank out your best yet, you gotta make sure your space is clean! 


Make sure to socialize. Whether you catch up with a friend at lunch or even call your coworker to brainstorm something, it's crucial to stay connected during this time. Especially if you're used to working with your coworkers on projects, try to give 'em a ring instead of messaging.


COMMUNICATE. The key to any good relationship, personal or professional, is communication. When you work in an office, it's easy to go down the hall and talk to your coworker about whatever needs to get done. Just make sure you have that same line of communication open while you're working from home. Be available on whatever messaging software your company uses, and turn your phone volume up so you don't miss a beat.


 Up your coffee game. Clearly we're all about the brew here at Digital Brew. Many of the Brewmasters have become literal Brewmasters during this time of isolation. They've reported that a good cup o' Joe in the morning is just what they need to get the days started off right. Not to mention, it gives them something to look forward to each morning. 
How Do You Work From Home?
So, how are you staying sane during this quarantine? We'd love to hear from you on any tips you may have on how to stay productive when working from home. Or, if your brand is looking to up their digital presence in this time when everything is moving to the digital world, we can help with that! Just pick a time to chat with us here.
Let's Brew This!