LinkedIn Video Ads In 2018: What You Need To Know
April 19, 2018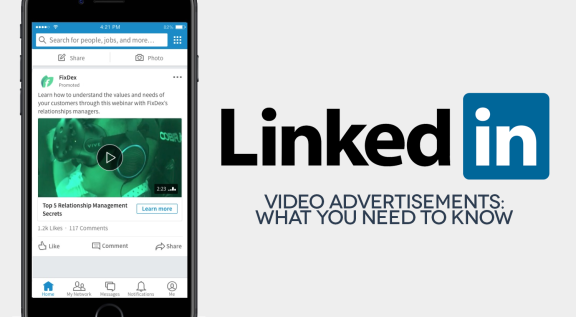 For content marketers, small business owners and practically anyone selling online in 2018, video advertising is no small feat. More companies are "pivoting to video" every day, pulling the Internet's advertising resources with them. Luckily, B2B marketers have a new resource available to them: LinkedIn video ads.
Video advertising has always been a huge portion of LinkedIn's ad sales, but only recently has the site opened up native video as an advertising option. This change will impact a small number of companies at first, but can be expected to roll out in full by the end of 2018.
If you're in the business of selling anything to professionals, this is a huge move that will certainly impact your advertising structure going forward. To help you get started, here is a breakdown of what's changed, what hasn't and your best practices implementing LinkedIn video ads in 2018.
What's changed about LinkedIn video ads?
While LinkedIn video ads have existed for a while, a 2018 update to the platform now allows companies to upload native video advertisements. This is a huge change from the previous system, which only allowed advertisements that linked to external video hosting sites like YouTube.
Currently, these video ads are only being tested on mobile, but advertisers can expect to see a huge shift in the platform in the next coming months.
Why did LinkedIn video ads change?
According to LinkedIn's research, engagement (watch time) on native video ads is nearly 3 times longer than other forms of sponsored content. These numbers fall in line with other video marketing statistics that overwhelmingly point to video being the strongest form of digital advertising there is.
Our clients at Digital Brew have seen as much as a 30 percent increase in conversions just by adding our explainer videos to their landing page. The fact is, the numbers shout that you really do need video.
How can I use LinkedIn's video ads for my company?
Here's what we know so far about best practices for LinkedIn native video advertisements:
Videos will auto-play with sound off, so it's best to optimize for silent video. Subtitles or infographic-based video will work best.

LinkedIn video ads are currently only being tested on mobile, so mobile optimization of your landing page is a must.

LinkedIn video ads can use any of the targeting already available to advertisers, including job title, company name and industry. This means you have the ability to be hyper-specific in your targeting, particularly for B2B sales.

LinkedIn has a tracking pixel that you can install onto your site, allowing you to track visits, submissions, conversions and more. We strongly recommend tracking all forms of engagement, including those listed, as well as video engagement statistics like views, watch time, comments and likes.
What is LinkedIn's "Matched Audiences" (and why should I care)?
LinkedIn's Matched Audiences allows brands to target a specific list by uploading emails you have on file. This means you can segment your ads to show only to those people you are already in contact with — warm leads, if you will.
All you have to do is download the list of emails from your CRM or email marketing service then upload them to LinkedIn. The site's "Matched Audience" feature will help you target the LinkedIn accounts matching your list.
RECAP: Why Switch To LinkedIn Video Ads?
Engagement with native video ads is nearly 3 times longer than other forms of sponsored content on LinkedIn.

B2B companies can use LinkedIn to hyper-target professionals, showing them video based on their job title, company name and industry.

For those with a robust email list, LinkedIn video ads allow marketers to match that list with LinkedIn's "Matched Audiences," showing the video advertisements only to qualified leads.