The Importance of Explainer Videos for Tech Companies
July 31, 2020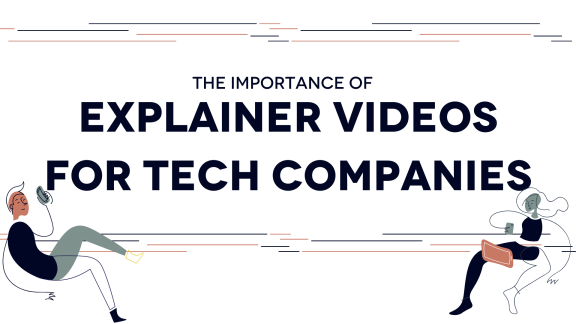 When you hear "I work in the tech industry", what do you think? There's a myriad of services, businesses, and applications that sentence could point to, which is part of the reason it can be so hard to explain what a company in "the tech industry" actually does.
Enter animated explainer videos. You've heard this from us a million times before, but businesses in any industry need to have an arsenal of video marketing tactics if they want to even stay in competition with other companies. But in the tech industry specifically, explainer videos are an absolute must. Here's why.
Obviously, They Explain Your Product
Do you ever find it near-impossible to explain your product or service to a potential customer? Afterall, you may only get 1-2 minutes with them, so you don't want your pitch to take 10 minutes or more (which can easily happen in the tech industry, we know). When you create an animated explainer video with Digital Brew, we take that 10-minute elevator pitch you give folks when they ask, "What do you even do?" and turn into a highly-digestible 1 to 2 minute explainer video.
Since tech can be so complicated, when we work with our tech-savvy clients, our goal for their video is to break down their service or product in layman's terms so their audience gets a good taste for what it is they do. However, we don't want to give away too much (keep 'em wanting more, you know?) just enough so they're ready to learn more about how your company can help them.
Here's a good example. Jetson specializes in voice-first commerce technology, something relatively new to the marketing world. It was crucial that we were clear and concise in their video, so their clients could get a good idea of how Jetson can help them succeed.
Boring? Keep them interested
Are you used to people's eyes glazing over when you explain what it is you do? Tech is anything but boring, but not all people agree, and we get that. So we account for that in our videos.
No matter how mundane your product or service may seem to the general public, an animated explainer shows your audience how you're anything but that. Through beautiful custom art, exciting animations, and a laser focused script, your product or service becomes the most interesting and compelling thing to whomever is watching your video.
Take this (Emmy™ award winning) video we did for Rocket Communications as an example. UX is not the easiest thing to explain, nor do most people know what it is, and therefore it's easy to lose their interest when explaining a product. But with a little help from some astronauts and aliens, all that changes!
Perfect Visuals
How can you describe something as vague as tech when you don't have any visuals for it? Yeah, your video is going to look stunning and feature custom art made by our talented illustrators, but what's more is it will feature your actual product. This is the perfect way to help your potential clients get the whole picture of what it is you offer. Whether it's software or an actual piece of tech, having that visual to go along with a product description makes all the difference.
Plus, they'll get to see it in action. Sure, you can show them a picture of what it is your offering, but if that's worth a thousand words, how much is a video worth?
That's what we did in this video for Braintrust. Braintrust connects freelance tech workers with businesses in need of talent, all through their online software. In this video, you get a glimpse of the layout of that software, showing how easy it is to use Braintrust.
Share Your Story
Isn't it time you let the world know exactly how your business can help them? The tech industry is one of our favorites to make videos for, so we'd love to collaborate with you to bring your brand to life in an unforgettable way.