Which Types of Videos Should Your Company Invest In
December 3, 2015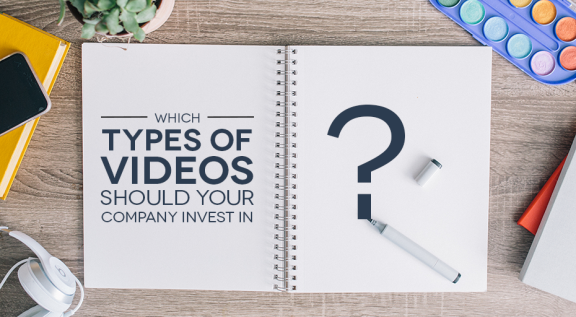 It's official, December is here and the new year is right around the corner. If you are a business owner or work in the marketing department of a company, you are probably writing down your list of business resolutions for 2016. And if you have been
paying attention to the marketing trends this year
, you have added "incorporating videos to your marketing strategy" to the top of your list. We want to help you cross off this important item of your list sooner rather than later to jumpstart your marketing efforts for the new year! Ascend2 and Vidyard have teamed up in a study called Video Marketing Strategy Benchmarks for Success to survey 228 professionals who are achieving important objectives with
video marketing
. Their findings are insightful to anyone already using or thinking of implementing video marketing strategies in 2016. An important part of video strategy that many of our clients struggle with is figuring out which types of videos they should invest in. Sharing some vlogs with your audience might be easy and fun, but are they effective? You might be proud of your event, but would people watch your event video? According to the study, "more than half of the companies with successful video marketing strategies prefer three types of video content: customer testimonials, demonstration videos, and explainer or tutorial videos." Does that surprise you? Probably not.
Customer testimonial videos
Customer testimonials are considered twice as effective as a case study videos. And it makes sense since the first type of video shows the customer -aka living proof of your success- telling the story of how your product or service improved his life. The second type of video is a company talking about their own business success. As a customer, which one would you prefer and trust?
Demonstration videos
Nobody likes to waste money. That's a fact. Demo videos are a convenient and safe way to "test" a product without having to buy it. These types of videos give the consumer the opportunity to see if a product is right for them without having the financial risk of purchasing a product they will not like.
Explainer or tutorial videos
According to the
dual-coding theory
, the formation of mental images helps us learn. And that is where
explainer videos
and tutorials come into play. In these types of videos, we use both verbal and visual communication to help create mental images, which makes it easier for people to recall the information given to them. The fact that these types of videos help us learn and remember what we learned is what makes them so special. Deciding which types of videos to invest your resources in is no easy task. Studies and numbers can help us, but ultimately, you will need to weight in your goals and needs and decide if a certain type of video can help you achieve your marketing goals. So if you are debating on which types of videos you should invest in check out studies, compare the numbers, and weight in your goals. And if you need extra help, your friends at Digital Brew are here to help. Don't hesitate to give us a call at
(407) 641-0152
or email us at
[email protected]
.
Related Reads