Video Metrics: Measure What Matters
November 12, 2015
View Count
It's important to know whether or not people are watching your video. The View-Through Rate (VTR) lets you know the percentage of people who actually clicked "play" on your video. To get this number divide the actual video views (people who watched your video) by the video's impressions (people who saw your video).

Unfortunately, there isn't a set industry benchmark for video views. It is up to you to judge the performance of your video depending on what your goal is. Ask yourself: are you reaching enough people to get the results you need? A low VTR may indicate that your
video thumbnail or title is not enticing enough
to get your potential viewers to click "play". This is an opportunity for improvement. You gotta get the views first! Knowing your video's reach is a good place to start but it's not enough to properly measure your video's success. But combining the VTR metric with other video metrics can give you truly valuable insights – so keep on reading.
Engagement
Watch time is a great way to measure your audience's engagement. Ideally, your viewers will stay engaged throughout the entire length of your video. Most video platforms let you track your video's watch time (the average amount of time viewers spend watching your video) or at least, whether or not viewers finished watching your video. YouTube and Facebook's metrics go more in depth and let you see your viewer's average engagement throughout the length of your videos with their Audience Retention metric. When looking at this metric you want to see a constant horizontal line from the beginning to the end of your video. Notice the data below. Over 80% of viewers viewed 88% of the video. This tells us viewers are staying engaged throughout the length of the video – which is what we want!

A quick drop off could mean trouble, especially if it happens at the beginning of your video. According to YouTube's Creator Academy,
the first 15 seconds of a video are crucial
. "A sharp drop off within the first 10-15 seconds may indicate that your viewers are not getting what they are expecting so they may be fast forwarding or leaving just as quickly as they arrived."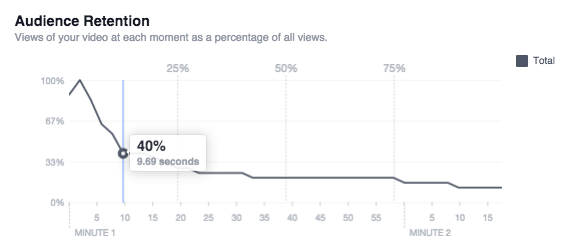 If your purpose is to drive viewers to respond to a Call-to-Action (CTA) at the end of your video, then you need to make changes to ensure the viewer stays engaged until the end. This may mean revisiting your content, even,
reconsidering the length of your video
. The faster you can get to the point and deliver value to your viewer, the more likely your video is to succeed. Now, let's talk about clicks.
Clicks
Most likely, your video will have a Call-to-Action (CTA), whether that is a link to your website, a sign-up request, or an ad to buy a product or service – and if it doesn't then it should. A recent BI Intelligence report showed that videos get three times more clicks than other ad formats.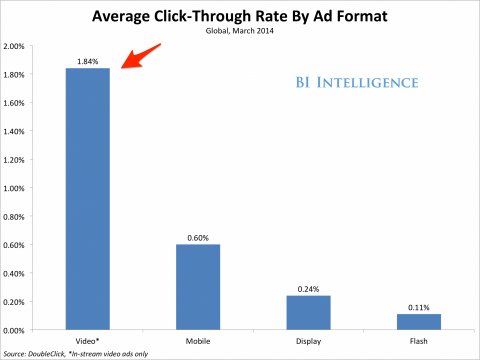 The Click-Through Rate (CTR) is the percentage of viewers that clicked on a Call-to-Action in your video. This metric helps you keep track of the effectiveness of your CTA.

If you're getting views, viewers are staying engaged, and your video still is not driving action then you'll want to revise your Call-to-Action. Is it clear? Is your value proposition strong enough? Make sure you're sharing video content with a clear and strong call-to-action that is valuable to your intended target audience. You can compare your video's CTR to that of other videos and other ad content to determine which is the most successful in driving the desired actions.
Actions Beyond the Click
Let's be honest, essentially, your ultimate goal is to turn your leads into customers. Go a step further and see what actions viewers are taking after they watch your videos by using your website's analytics tool. Are your videos driving traffic to your website? Is this video-driven traffic leading to more sign-ups or more conversions?
Quick Tip:
Use Google Analytics' Referrals report to see the traffic, engagement, and conversions coming from your video. To access this report go to Acquisition > All Traffic > Referrals and type your video hosting platform (i.e. YouTube).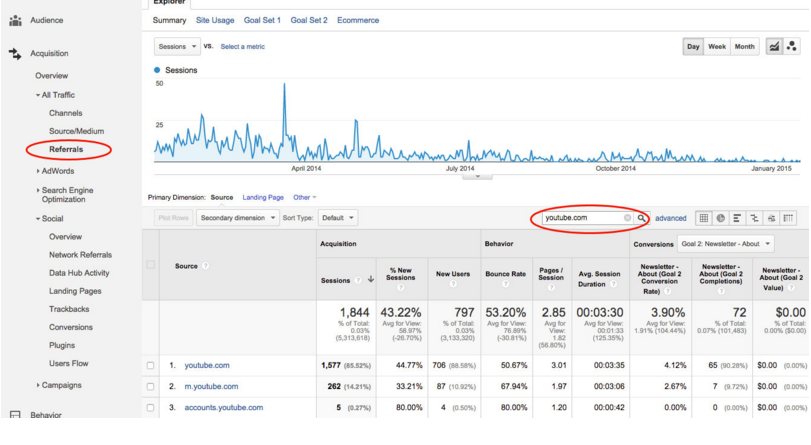 Choose your metrics wisely and keep a clear goal in mind when analyzing the data. If your video is not performing the way you expected using the right metrics will help you identify the problems and make the necessary tweaks to get your video back on the track to success. Questions or comments, give us a shout! Our goal is to help your business become more successful. Reach out to us on Twitter
@DigitalBrew_co
or shoot us an email at
[email protected]
!
RELATED READS