Do Healthcare Companies Need Video?
August 7, 2020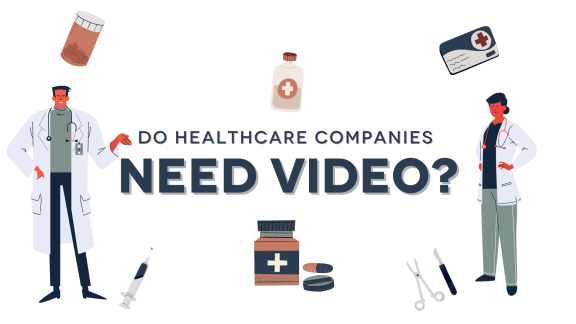 The term "healthcare companies" covers an extremely wide variety of businesses, ranging from providing services and insurance to producing medical equipment or drugs. However, all businesses in the healthcare sector have something in common, and that is whether you are trying to explain a procedure or sell a product, having a healthcare explainer video will help you succeed in all of your business goals.
Of course you've heard video is the future of marketing, but it's actually much more than that. Explainer videos help pull in potential customers, but what about businesses like hospitals? Could they benefit from animated videos?
They can! And here's how.
Explain a Procedure
If you're a hospital or medical practice, you may find yourself trying to describe complicated procedures to patients who, naturally, have a lot of questions. You want to ease your patient's anxieties, and help answer all their questions without wasting too much time, and that is how animated explainers can help.
Take AdventHealth, the go-to hospital for those living in Greater Orlando, for example. One of their more complicated procedures also happens to sound terrifying to most people. So to help ease the worries of their patients and answer a majority of their questions, they created an animated video explaining the step-by-step process of Gamma Knife Radiosurgery.
With help form a friendly voice-over artist, colorful visuals, and a fun script, something as scary sounding as "Gamma Knife" suddenly becomes a walk in the park.
Showcase a Software
For healthcare professionals that offer services, software or otherwise, animated videos are perfect to showcase the intricacies of what exactly you offer and how it can benefit your target consumer. Of course, this is true for all businesses, but in the healthcare industry specifically it is crucial to give the viewer an accurate representation of the services they can expect, since presumably their life will depend on it.
HHAeXchange offers software to help homecare agencies and caregivers communicate, streamlining the homecare management process. One way they revolutionized this field is through their HHAeXchange app.
This video we created for them not only explains the features of the app and how both caregivers and agencies can benefit from it, but it also shows real examples of what the app looks like, making it that much easier to use.
Display Products
If you have ever tried to explain a medical product to someone without visual help, you know just how frustrating (and time consuming) it is. The power of a laser-focused script paired with clear visuals is comparable to magic when it comes to helping your consumers know the ins and outs of your products.
For this example, we'd like to show our readers a video we made for BD, one of the largest medical technology companies in the world. This video not only featured some of their products, but told the story behind their company as a whole, and how they're advancing the world of health through their research and products.
So, Do You Need Video?
That about sums it up, doesn't it? No matter what type of products or services you offer to the medical field, you can always improve relations, client communication, and brand awareness through the help of an animated explainer video.
If you're having trouble picturing how an animated video could help your business, we're bursting with ideas and ready to chat with you about it! You can set up a call with us here.
Let's Brew This!