How to Pick a Voice Over Artist
July 15, 2020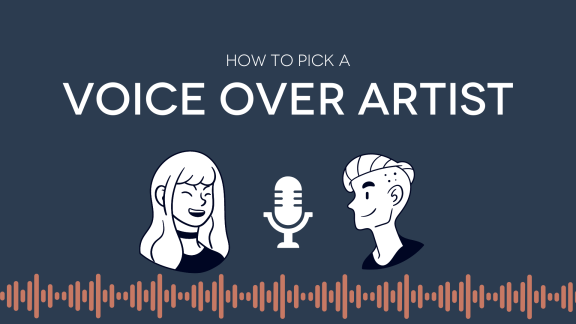 If you're focused on brand development, you already know one of the major aspects of growing your business is discovering your brand voice. Digitally, that means you create brand guidelines to follow, incorporating a specific tone that you want to represent your business. Depending on your audience, you could go with sophisticated, witty, fun, professional, the options are limitless.
However, deciding what your brand voice should be when it comes to video marketing is much more literal. When creating your animated explainer video, it's crucial to hire a voice over artist that fits your brand's tone. If you're having trouble deciding what kind of voice talent to hire, well, that's why we wrote this blog!
Know Your Product
What is it that you're trying to sell? If it's a specific service, try to personify it. If your product or service were to magically turn into a person, what would they sound like? Would they be serious or cheeky? What clothes would they wear?
It may sound silly, but these are all key ways you can get to know the perfect voice to represent your brand.
Know Your Audience
Along with knowing your product well, it's essential to know your audience. Of course every marketer is familiar with who they are selling to, but when it comes to picking the best voiceover for your video, you also need to know how you want your audience to feel when they see your product or service. Excited? Safe?
Multiple studies have shown that men and women voiceover artists come with their own associations.
Keep in mind that if you have a very specific target audience, such as men in their mid-thirties, it may be best to choose a male voice actor in his mid-thirties.
What About Accents?
In American advertising, the use of accents can really pique the interest of your viewers. Of the top 3 accents we see in explainer videos, here are some associations that go along with them.
In addition, if your target audience is located somewhere where an accent is the majority, you should consider using a voice actor with that accent to prove more relatable to your viewers.
Finding Your Voice
The great thing about creating a video with Digital Brew is that you don't have to go at this alone. With years of voice over experience under our belts, we'll work with you to narrow down some of the top voice talent choices, and help you decide which voice truly fits your brand.
Question? Comments? Ready to find your brand voice?