How to Virtualize Your Event During COVID-19
August 28, 2020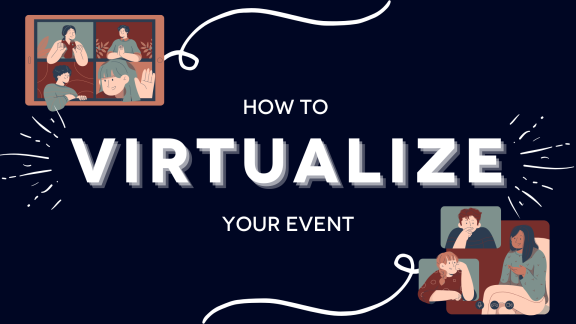 If you're like many businesses, COVID-19 has forced you to cancel or postpone an event your company was working hard to prepare for. But what if we told you that you can still host it?
Obviously we don't think you should hold the event in person, but there are so many creative and fun ways you can turn your event into a virtual experience. The keyword for making this possible, though, is VISUALS.
Below, we've listed a few key visuals (both interactive and entertaining) that you should incorporate into your event. There are endless possibilities in the virtual world, so feel free to add to this list!
Worksheets!
If you're in grade-school, your automatic response to this word is probably something like a groan. But if you're a marketing professional, you should be getting excited!
Worksheets are a great way to help brands discover a bit more about themselves, or (especially in this case) help solidify something taught in a lecture of presentation. If you've got a dense and intense workshop or presentation, why not add a worksheet to go along with it? That way your audience can stay engaged and remember what you talked about.
This is an example of a worksheet we made. It's actually just one page from an entire workbook we created called Storytelling for Brands. We try to keep it as fun as possible by encouraging people to draw and be creative.
Facebook/LinkedIn Groups!
Another great way to liven up your virtual event is to create a closed Facebook and/or LinkedIn group, that way, your event feels more exclusive. Plus, you can create threads where your attendees can ask questions and discuss related topics and recent seminars.
INBOUND by Hubspot is a conference the Digital Brew Crew likes to attend every year. This year they decided to make the event virtual, and invited all of the attendees to join a private Facebook group a month before the actual event was taking place. There, they could post updates and answer questions, and attendees could share their excitement.
Videos!
At Digital Brew, we firmly believe everything is better with a good animated video, especially virtual events. They're not only a great way to explain what your company is all about (especially if you're in the tech biz), but they also help break up your virtual event and keep it fun and engaging!
Time to brainstorm. Here are just a few ideas of how you could use a video to help spice up your virtual event:
Intro/Hype video
Explain a product you introduced
Recap a workshop or presentation
Advertisement for before and during the event
Animated transitions between speakers/presentations
Although this video wasn't necessarily used for a virtual event, we think this video we made for The Winning Seat would be an incredible hype/intro video to kick off a virtual event!
Let's Brainstorm
We know there are tons of ways to virtualize your event, and we'd love to hear how you're taking on the challenge! Or, if you're looking for help on how to best present your event in the virtual space, we'd love to be a resource for you! You can choose a time to chat with us here.
Let's brew this!