The Future of Explainer Videos in 2020
September 9, 2019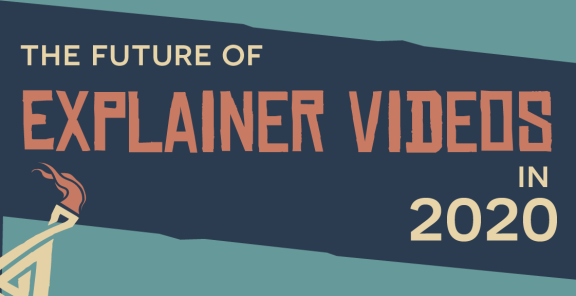 It's no secret that the average attention span is getting shorter and shorter. In fact, attention spans among 4 to 24 year olds (Generation Z) clocked up to a whole 7 seconds. Statistically, most of you have probably stopped reading this by now.
The world is changing. "Elevator pitches" used to take at least 20-30 seconds, now you have less than 10 to work with. How we communicate with each other is becoming more condensed and to the point. This is why explainer videos will thrive in 2020 and on.

Looking Back at Video
In order to see where video is going, we have to see where it started. Animated and explainer videos really got their start back in 2007/2008 with the oh-so-popular whiteboard videos. My, how far we've come.

Fast forward 4 years to 2017, where Facebook and Instagram are dominating the internet and smartphones have more computing power than a desktop from 2011. According to a study done by HubSpot, over 50% of users said what they really wanted from the brands they love to follow is, you guessed it, more video content.

In 2013, when video marketing was really booming (oh look, people are actually using animation and not just writing on white boards!), 57% of consumers said product videos made them more confident in a purchase (that number has now jumped to 90%, by the way).

The Future is NOW!
And that brings us to now. In 2019, 88% of marketers reported they're satisfied with the ROI of their video marketing efforts. If there's one thing we can gather from the history of explainer videos, it's that they're the most memorable and engaging type of content. When your audience watches a branded video, they're much more likely to stay for the whole thing, unlike other forms of content. It seems reading articles or even opening emails is a little too much to ask your average consumer nowadays.
So, whether you're trying to explain what your company does or launch a new product, a well-crafted video is your best bet to keep your viewer's attention.

What to Expect in 2020
Companies who haven't implemented explainer videos into their marketing strategy will fall behind their competition. We're talking a loss of engagements, impressions, leads, you name it. You may think we're biased for saying this, but you can ask all the experts out there and they'll agree. Video content is easier to digest, especially if your target audience happens to fall into Gen Y or Z. Having said that, here are a few things to keep in mind for 2020 and beyond:

Go Mobile- Even outside of video, more and more users are browsing their favorite sites and social platforms via their cell phones. It's expected that nearly 80% of internet usage in 2018 was done on a mobile device, and as smartphones keep getting smarter, that number will only increase. Any type of video you put out there must be mobile friendly since it's pretty much guaranteed that your content will be playing on a phone screen!
Keep the Script Simple- Refer back to the first paragraph of this blog. We'll wait. Okay, you back? So now you remember that you only have about 8 seconds to grab your viewer's attention before they go back to watching slime videos. It's safe to assume the general population's attention spans will only get worse as time goes on, which is why we're predicting future videos should be kept simple and easy to digest. After all, the whole point of creating an explainer video is to take something that is hard to explain and have somebody much more interesting (like a puppy!) condense it for you. For this, you'll need clever and experienced writers who know all the right button words to use to hook your audience. We recommend sticking to the K.I.S.S tactic here.
Always Go With Pros- By now you know any successful video strategy involves keeping your viewers interested within the first few seconds. Even more so, it involves not turning them off to your video within the first few seconds. Will all the competition out there, the standard for explainer videos in years to come will only go up. Crappy animation, confusing storylines, and poor audio is basically a death sentence for your company. Honestly it would be better to remove video marketing from your strategy than to slap your logo on a low-quality video.
Time to Prepare
Competition will be tough, so partnering with an award-winning animation production company like Digital Brew is your best bet to stay on top of the video marketing game. Sure, you could get a quick animated video for cheap, or even attempt to make your own, but the important thing to remember is you're trying to beat out your competition and having sub-par animation represent your company could prove fatal.

So, you've heard our thoughts, what do you think? Where do you see video taking us in the future?

Looking for a top-notch explainer video? Lucky for you, that's our passion here at Digital Brew! Let's hop on a quick call to discuss the future of your video marketing strategy.