Top 5 Conferences for Marketers
September 17, 2019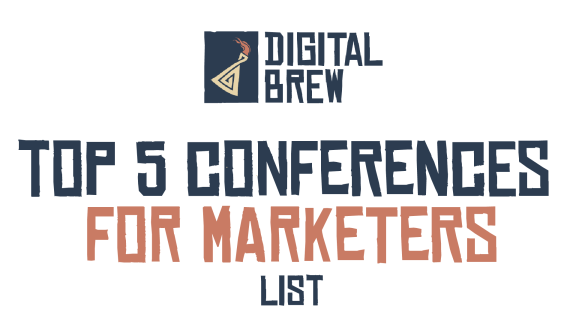 With INBOUND19 freshly behind us, it's safe to say we've got marketing conferences on the mind.
If you missed out on the fun, you can check out some of the highlights on our Instagram!
Although the majority of our team was battling colds for the entirety of our time in Boston, we all agree that the event was not only a blast, but a major success for Digital Brew. We trekked all the way up to the New England area from Florida (during a hurricane, we'd like to point out) with the goal of building new partnerships, making great friends, and (most importantly) scheduling more demos than we did last year.
With the help of some awesome goodies (pictured below) and an even awesomer team, we were able to go above and beyond the goals we had set for this year.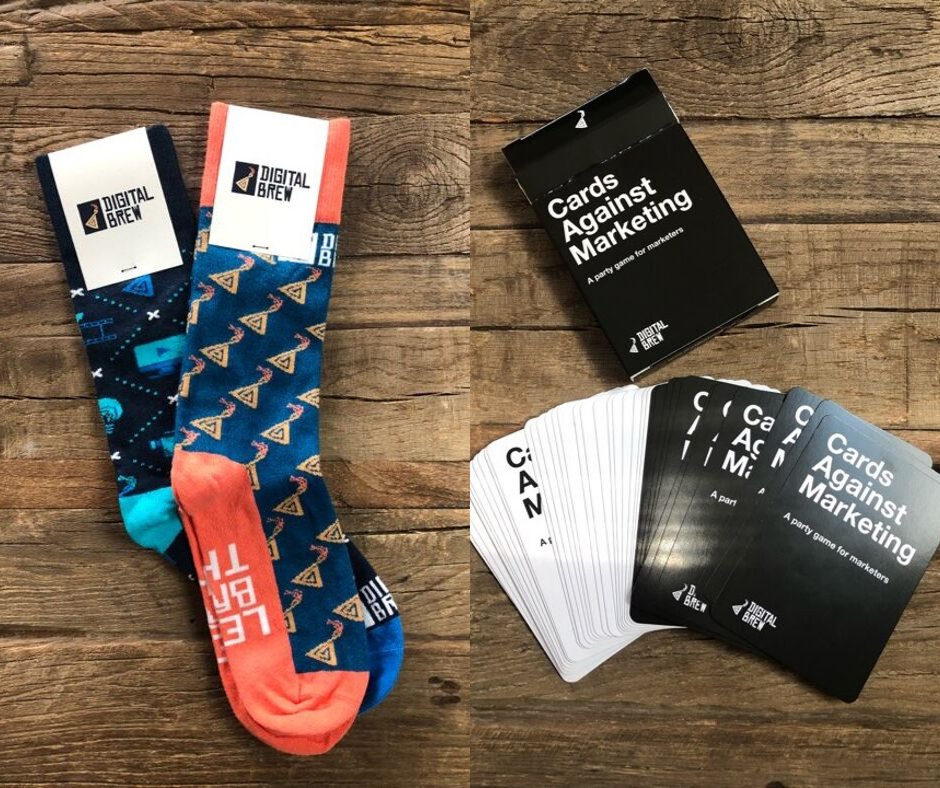 But back to the topic at hand. If you clicked on this blog, we're assuming you're already on the hunt for some good conferences to attend. Whether or not you have the same goals as us, we can recommend some of the top conferences for digital marketers in the US.
Why Attend Conferences?
Before we dive into the main event, let's talk about why marketing conferences are an important part of your marketing strategy. Conferences are a great way to:
Generate leads
Network with peers in a similar field
Form new partnerships with companies that compliment yours
Learn about the upcoming trends and tools in your field
Get inspiration and creative ideas from other brands
Participate in word-of-mouth marketing
Increase brand awareness
Team-build
Explore a new city
If you're like us and want to sponsor a conference, you may not have enough time to attend all the sessions, but you'll surely get a heck of a lot of networking opportunities!
Our Top Picks
Without further adieu, here is Digital Brew's top 5 marketing conferences to attend:
Where: Boston, Massachusetts
When: August 18-21, 2020
Of course we were going to mention INBOUND, so we might as well put it first. We've attended this conference 3 years in a row, and it gets bigger and more incredible each time. This year, about 25,000 marketing-lovers all journeyed to the Boston Convention Center and enjoyed speakers like Jennifer Garner, Janelle Monáe, Alexis Ohanian, and (our personal favorite) Chip and Joanna Gaines.
Here are some of the pros and cons we've found with INBOUND.
Pros:
Great speakers
Lots of people to network with
Lots of free swag
Open bar after final sessions
Lots of FUN!
Cons:
Expensive- especially if you want to be a sponsor with a booth
Can get a little crowded, especially when in line for lunch
Long days. About 10 hours on your feet for 4 days straight
Rush hour traffic in Boston is never fun
Where: New York, New York
When: 2020 Dates TBD
Although we've never been to this conference hosted by AdWeek, it's on the top of our list. With 6 locations around the globe and over 98,000 attendees, AdWeek is definitely one of the largest marketing conferences you can attend. Enjoy hearing from over a thousand speakers on the future of marketing and technology, or check out the 200+ networking events hosted throughout the day. And don't forget to keep the party going at night with concerts, comedy shows, and more!
From what we can tell, here's what we think the pros and cons of AdWeek would be.
Pros:
Lots of networking opportunities
Unique sessions aimed at a wide array of specialties
Awesome concerts and events
Student discounts
Cons:
Crowded (98,000 people, remember?)
Too many sessions to choose from
Where: Anaheim, California
When: 2020 Dates TBD
If you're a video/YouTube nerd, this conference is an absolute must. It is the world's largest event for fans, creators, and brands that are all up in the video and video marketing world. And, of course, since it's presented by the video giant itself, YouTube, you can expect to see your favorite YT stars like Rhett & Link, Jacksepticeye, TheOdd1sOut, Emma Chamberlain, and so many more. As a marketing professional, you'll probably be most interested in their Industry Track, which offers sessions and in-depth strategy discussions on the best ways to grow your business with video marketing.
Our pros and cons list for VidCon?
Pros:
All your favorite YouTubers
Brand recognition, especially towards Gen Zers
Access to top leading industry experts
Ability to chat with the world's top content creators
Cons:
Not a "professional" conference
Conference in general appeals to a younger crowd
Lots of widely-known sponsors means you may get overlooked
Where: Las Vegas, Nevada
When: March 29–April 2, 2020
From data and analytics to email and omnichannel marketing, Adobe Summit pretty much has it all. With hosts like Mindy Kaling and musical guests like The Killers, Adobe Summit's claim as a "world-class event" seems to live up to the hype. As a sponsor of the conference, you'll get to enjoy onsite meeting rooms, premium digital ad placements, an exclusive hospitality suite, and so much more (depending on your level of sponsorship)! And, aside from networking with the 20,000+ attendees and catching some breakout sessions, you can get a sneak peek into what Adobe has in store at the Summit Sneaks event, which is great news if you're an Adobe lover (like us)!
Here's our pros and cons list:
Pros:
90% of attendees are the decision-makers of their brand
Exclusive insider looks at Adobe software
Press release opportunities
Cons:
Expensive
Could be a very niche conference
Where: Cleveland, Ohio
When: 2020 Dates TBD
Although it may be less flashy than some of the other conferences we've looked at, Content Marketing World is still a great event to look into. With 4,000+ attendees and 225 speakers, this conference would be a great option if you'd rather not deal with all the hustle and bustle that comes with large conferences. But, don't underestimate Content Marketing World! This year, Mindy Kaling was one of their featured speakers, and we can expect for 2020's lineup to be just as good.
You know what comes next.
Pros:
Smaller conference = Easier to stand out
Affordable
Cons:
Less attendees = less potential leads
Not as many fun events or networking opportunities
What do you think? Have you attended any of these conferences or do you have one you love that didn't make our list? We'd love to hear about you experiences!
If you'd like to hear more about our experience at INBOUND, or just want to reach out, email [email protected].
Happy Conferencing!