What to Put in Your Explainer Video
February 22, 2021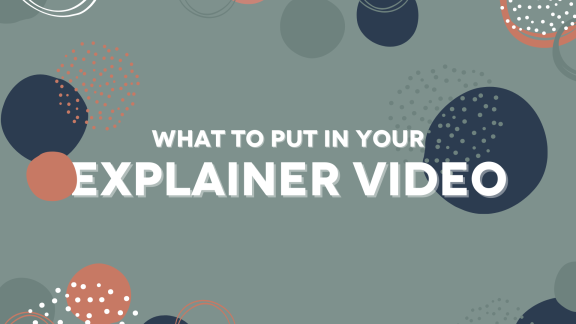 You've decided to invest some time and money into creating an explainer video. Good! Marketing stats show it's the best way to advertise your business in 2021. The thing is, now you have to decide what it is you want to say in your video.
The most successful animated explainer videos average around 60 seconds, which is not a lot of time to get your messaging out there. At Digital Brew, we've written hundreds of scripts for our clients, so we have the 60 second video formula down pat.
So, according to the DB experts, here are the most crucial things to include in your explainer video.
A Story
We're always talking about how important it is to tell your brand story, or how videos that tell a story are the most successful ones. But what does that really mean? Well, simply put, it just means your video needs to have a beginning, middle, and end.
For this, we can work backwards. The middle of your video is where you want to show how your company or product can solve a problem. Once you figure out what problem you want to focus on, you can go back to the beginning to introduce that problem. The end of the video should always have a callback to the beginning, when the problem was introduced.
It can sound a little complicated when explained this way, so it's better to show you what that looks like. In this video we created for Jetson, there is a clear story arc within the 69 second video.
Here's an exact breakdown of what we're talking about. 
What Makes You Different
Now, within the middle part of your video, where you are explaining what problems you solve as a company, you'll want to include what exactly makes you different. Chances are, you aren't the only company who provides the services and solutions that you do, but there's no other company like you out there. Why is that? It could be things like:
Superb customer service
Unique clientele
Quick responses and solutions
Partnerships with other companies
Charitable acts
Eco-friendly operations
There's so much that makes your company unique, and your animated video should celebrate that!
A CTA
What do you need to tie your beautiful animated explainer video together? A strong call to action.
In order to craft your CTA, you need to ask yourself what the point of your video is. Do you want viewers to visit your website or sign up for a demo? Maybe your goal is just to spread awareness of something crucial. Either way, the CTA at the end of your videos is crucial to making it worthwhile.
Let's take a look at our Jetson example again. The CTA is clearly stated, Jetson wanted to push viewers to sign up for a free trial, which along with showing their logo and listing their website, really helped drive home the point.
Put a Bow on It
You put a lot of work into how you want to be represented in your animated explainer video, but all of that work goes to waste if you don't partner with a production studio who fully understands who you are and what you want to accomplish with your video (and makes it look really cool).
At Digital Brew, we do more than make really amazing videos, we take the time to get to know each and every client we work with, so we can portray their unique brand perfectly in their animated video.
So, if you're ready to take the next step towards a powerful marketing tool, or you have more questions about our explainer video process, we'd love to chat!
Let's Brew This!