Why You Should Use Your End-Of-Year Budget on an Animated Explainer Video
September 23, 2019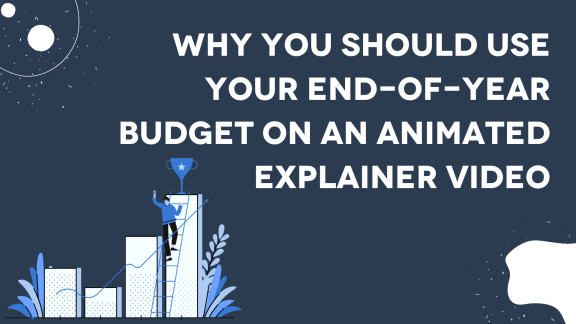 Well, it's that time of year again. If you're like most businesses, you're scrambling to find something worth-while to spend the remainder of your allotted budget on. Why not use that extra cash to put towards something that will actually benefit your company in the long run?
If you've worked with us before, you know an animated explainer video will not only help you hit that end-of-year budget goal, but give you a beautiful, customized video that will last years to come. Of course, we're partial to the work we put out here at Digital Brew, but if you need an extra push, here's our argument for why a video from us is the only way to spend that last bit of your budget.
Animated Videos are Timeless
Animation is a truly magical technique. Even the most abstract ideas you want to portray can't stand against a team of talented animators and illustrators. But apart from easily bringing complicated ideas to life, animation itself lasts longer than any other type of video production.
You don't normally think of expiration dates when it comes to video content, but as with everything in the marketing world, change is constant. Even if your animated video starts to lose its shelf life (which takes well over 5 years) or you make changes to your company that you want reflected in your video, it's simple to update the information and animation.
You Can Stay In-Budget
It seems "budget" is the word of the day. One of the most common questions we get from future clients is something along the lines of 'how much will this cost me'? To which we normally respond with 'it depends on your project'. Not the answer most people want to hear, but it's true!
The great thing is, there's a lot of wiggle room when it comes to animation. Whether you're looking to spend that last $10k of your budget or you've got upwards of $30k, we can create a visual masterpiece that tells your brand's story.
You'll Use it All the Time
Animated explainer videos are the gifts that keep on giving. Lots of our clients will use their customized videos on their website and social media, but it doesn't have to stop there! You can customize videos for literally anything; whether you want to say a special thank you to your clients for downloading your software or you want to explain your complicated product to potential buyers via a killer email blast, video is the way to go.
One place we like to use our own explainer videos is at conferences. In fact, we recently went to HubSpot's marketing conference, INBOUND, where we played one of our explainer videos on a loop. We have to say, it was pretty fun watching the faces of people who would stop in front of our booth, entranced by the colorful and fun animated clips we played (and also a great way to reel them in)!
So, what do you say? Are you ready to use up the last bit of your budget on something that will actually impress your boss (and possibly get you an even bigger budget for the next fiscal year)?
If so, you can set up a time to chat with us, so we can help bring your creative vision to life.
Let's Brew This!