How to Capture Leads with an Explainer Video
November 9, 2020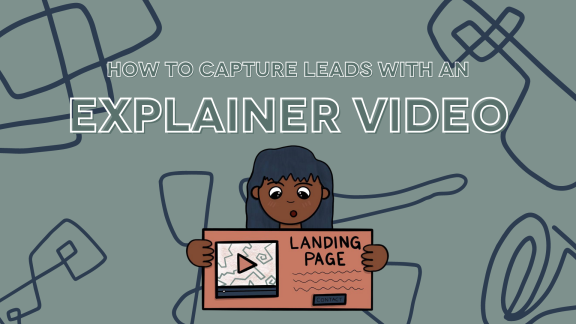 Surely you've heard this time and time again, but explainer videos keep proving themselves to be the best way to capture leads.
And while this may be common knowledge at this point, we still find that many of our partners aren't quite sure the exact way to capture leads with an explainer video. So in this blog, we're going to outline some of the best ways to integrate your video into your marketing tactics.
Video Ads
One of the first applications most marketers think of when it comes to explainer videos is paid ads. Rightfully so, as video ads have proven to drive over 50% more engagements than static image ads. There are two main platforms you can place your video ads:
Social Sites– The best sites to use paid video ads will all depend on your target audience. For Millennials and older, sites like Facebook, Instagram, Twitter, and LinkedIn are where they spend their most time, and thus the most successful sites to use when trying to market to them. For the Gen Zers, you'll mostly find them on Snapchat and TikTok, which offer unique video ad options and fairly high conversion rates.
Google- Using video ads through Google Ads is essentially advertising to the entire internet. Of course, within Google Ads you can narrow down who specifically sees your ads within the Google Display Network. In addition to the over 2 million sites your video ads will display within the Google Display Network, Google also allows you to run video ads on YouTube. Since YouTube has such niche communities, marketers who choose to run video ads on the site see lots of success, with 90% of ads on YouTube driving a lift in brand recall.

Videos on Landing Pages
Once you drive users to your landing page, video is actually a great way to get them to stay on the page, and even interact with whatever form of lead capture you have in place.
In fact, using videos on landing pages can improve conversions by 86%.
And if that's not convincing enough, you may want to consider using video on your landing pages because your competition is probably using it. 60% of both B2B and B2C marketers use video for marketing to drive more conversions on their landing pages.
Video in Emails
Now this one can get a little tricky. Videos in emails undoubtedly help them perform better, as it boosts open rates by 19% and click-through rates by 65%, however getting a video to correctly send through an email is a bit hard to do.
But, if you stick to it and follow guides like these, you can reduce your unsubscribe rate by 26%.
High Quality Videos
Let's not forget the most important factor when using explainer videos to capture leads- you need a high quality video.
Think about it: no matter where you use video in your customer journey, it's going to be one of the first impressions you make to your audience. None of the above tips will work without a well-made video that perfectly encapsulates what your brand is all about.
And who better to make your videos than a 17-time Emmy™ award winning production team? At Digital Brew, every new video we make happens to be our best video yet. Let us prove it to you!
If you want help with your marketing strategies, or need an award-winning video, let's chat.
Or, looking for more creative ways to implement video into your strategy? Check out the Best Videography Designs of 2020 by Best Designs!
Let's Brew This!