Instagram Announces It's Focusing on Video in 2021
July 9, 2021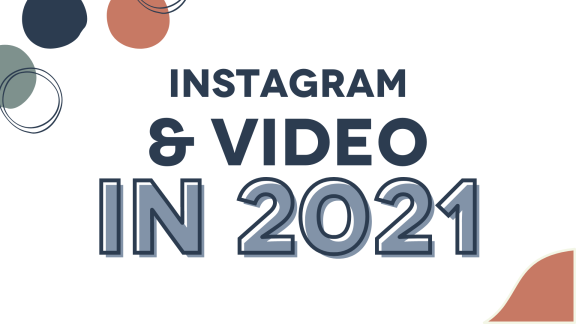 Here it is, the news we've all been waiting for. Adam Moserri, CEO of the once photo-centric platform Instagram, announced on Twitter that there were a few changes coming to the platform this year. Moserri mentioned their intent to focus on other important factors to the app such as messaging, creators, and shopping. But among the biggest of those changes was their shift in focus, from photos to video.
"We're no longer a square photo-sharing app. The number one reason people say that they use Instagram, in research, is to be entertained."

– Adam Moserri, CEO of Instagram.
Moserri attributes their move to video to other popular apps such as TikTok and YouTube, citing them as intense competition. He also mentioned that Instagram will be showing more content from creators that users "may" like, rather than content from those that they follow.
As with any change, there are those who resist it. Most of the backlash comes from Insta users who argue that the reason they use the app in the first place, is to connect with family and friends, not random creators.
But no matter how you feel about the change, one thing is for sure: this changes the way you should post about your brand on Instagram.
What It Means for Your Brand
Moving away from being a square photo-sharing app means more than just focusing more on video. It means Instagram is broadening their horizons, and looking to have more content (mostly video) in the 1920×1080 format. This is huge, as Instagram has always been known as having those weird dimensions where you have to crop all your posts to fit into their (literal) box.
Moserri also mentioned that they will be focusing on providing a mobile-first video platform. Just like IGTV, this means they may be moving towards featuring vertical videos as well, just like Snapchat.
So, like the title of this section says, what does this mean for your brand? It means video is now even more important, especially if your target users or audience are frequent Insta-scrollers. No long will Instagram prioritize posts based on post time, popularity, or even interactions, it will now forever idolize video posts.
What You Can Do
Don't fret. Adapting to this change won't be too hard. There are many free apps that you can create water-marked, cookie-cutter videos that will give you the bare minimum of what you need to create a successful post on Instagram. Or, you can create a custom animated video that fits your brand to a T, and also comes with additional assets like characters, social cuts, SRT files, and more. When you get a custom animated video, there are hundreds of ways to reuse the assets you get, giving you way more mileage than just one video.
So, ready to take on the Instagram platform in 2021? If you're looking for tips, tricks, or a custom animated video, the marketing gurus at Digital Brew would love to talk with you! If you want to brainstorm, you can pick a time to chat with us here!