Our Favorite Media of 2022
December 23, 2022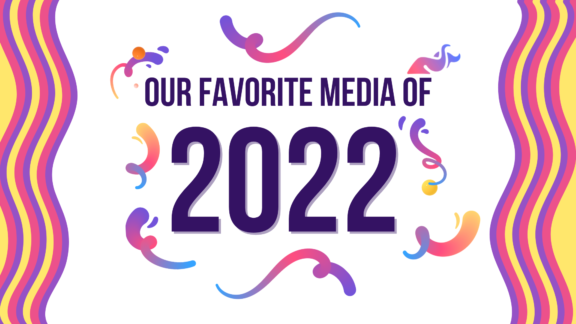 Congratulations, you've made it to the end of 2022. What a year it's been here at Digital Brew. We thought it would be fun to wrap the year up with our favorite media of the year. So we sent out a call to all brewmasters to tell you what their favorite media of the year was. Here's what some of them had to say:
Music
We had a couple brewmasters that wanted to highlight their favorite albums of the year.
"My favorite media from 2022 is Bad Bunny's album Un Verano Sin Ti. It's my favorite album because it made me enjoy the summer and explore different genres and emotions on a single album. I love the design and concept of each song and its cover art. – Jossy Amparan
"Being Funny in a Foreign Language is The 1975's critical and timely response to a post-covid, technology-obsessed society. While you'd think this would mean the album is filled with tracks of doom and gloom, the opposite is true. Matty Healy, the frontman of the group, takes very dark subjects and turns them into deceptively poppy and light songs. The juxtaposition of such tragic concepts with impossibly catchy and carefree melodies is truly what makes Matty a genius songwriter, and why I love this album so much." – Blake Wyrick, dictated to Ally Nichols because he was so stunned by the album he couldn't put it into his own words.
Movies
The rest of the team focused on the movies that stuck with them for 2022.
"It's hard to nail down a favorite source of entertainment for the year but, the one that surprised me the most was Top Gun: Maverick. I was hearing good things through the grapevine but I always have to be the judge for myself. It doesn't disappoint! It was refreshing to just enjoy a fun blockbuster with fantastic action and a decent story." – Doug Jarman
"The Banshees of Inisherin – A story of tragedy and comedy with a civil war backdrop that excels in score and scenery easily makes this my favorite film of the year. 10/10, would recommend." – Brent Mayorca
"The best documentary I've seen in 2022 was Johnny Cash: The Redemption of an American Icon. Why? It's not often that a documentary moves me to tears. The insights into Johnny Cash's life, his meteoric rise, his drug-fueled fall, his spiritual rebirth and his willingness to live his convictions despite the intense pressures of the media and music industry was just incredibly inspiring to watch. The storytelling was powerful and the visuals were beautiful. So well done. Just blown away. – Nathan Nazario
"In my opinion Everything Everywhere All at Once was the best piece of media to come out this year. It was the perfect balance of genres, hilariously funny, and still very moving and extremely relatable, which is strange considering how out there it really is. I felt especially seen because I, too, put googly eyes on everything." – Ally Nichols
"Because I'm compiling this blog I'm cheating and picking two movies. My two favorite movies of the year are Jackass Forever and Marcel the Shell with Shoes On. Sure they may seem like totally different types of movies, but they both have a refreshing sincerity to them (on top of the fact that they're truly great movies). On one side, you have Jackass, which it's genuinely some of the hardest I've laughed in a theater in years. And while this may seem like an odd choice, there's a wholesomeness to it that doesn't get recognized enough. Which is odd to say for a movie about people doing really stupid things to each other. But it's generally so good natured that you feel like you're getting back together with old friends. And then we have Marcel, a warm blanket of a movie that made me laugh and moved me to tears. It wears its heart on its sleeve in a refreshing way without quips or winking at the camera. It's a sweet and gentle movie about a little shell with shoes and the way he sees our world." – Rich Belsan
Happy Brew Year!
We hope you enjoyed these recommendations from the brew crew. There's some really great things to check out in case you missed them. We'll be back in January with our regularly scheduled marketing blogs. We hope everyone has a happy holiday! Remember, you can always reach out to us here to talk about marketing tips or for us to help bring video into your marketing campaign. We'll see you in the new year!
Let's Brew This!