Top 5 Animated Explainer Videos for the Tech Industry
November 11, 2022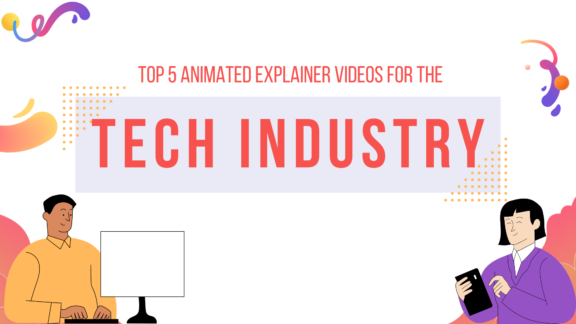 We're back this week to do another Top 5 list for our company's animated explainer videos. This time, we're focusing on Tech, which can almost always be a little difficult to explain. But it really depends on how in the weeds a client wants to get and who the audience is. Some explainer videos for the tech industry need to have a high level view and put what they do in broader terms. But if the video is aimed at a very specific industry audience, we can get a little more jargony with it. But even then, the goal is to get as much information across in a short amount of time. And since 86% of businesses continue to use video as a marketing tool they're clearly effective. So without further ado, let's dive in:
Jetson Animated Explainer Video
Jetson came to us looking for a way to spread the message about their voice commerce tools and technology. Seems like a simple enough concept, right? But how about what services this can integrate with? And what kind of benefits can companies get from this besides just ease of use? These were some of the messages past and present Brewmasters Andrea and Travis Leonard had to convey through the power of animation.
GameDriver Animated Explainer Video
Video games are fun, right? Of course! But have you ever thought about how much work goes into not only designing them, but also testing them to make sure they work as intended? Well GameDriver did. And they had a way to help automate the testing process. So we were tasked get across what they do as well as how effective it can be for developers. Brewmaster Tim Spencer brought their abilities to life in this stunning animated explainer video.
Parallel Systems Animated Explainer Video
Next up is Parallel Systems. They reached out looking to help tell their story and the unique way they're updating the railways. We needed to find the right way to show what the old system looks like versus the new one and all the ways it would be improved. The lines of railways really lent themselves to creating a dynamic and visually interesting video. Brewmasters Beau Benson and Doug Jarman knocked it out of the park.
Cisco Smart Building Animated Explainer Video
We're always thrilled to work with Cisco. For this animated explainer video, they wanted us to cover their smart building technology and how useful it is to not only operate building functions, but also monitor how much they're being used. Brewmasters Nadya Sudjita and Beau Benson brewed this sleek video to show just how Cisco's technology worked.
Rocket Communications Animated Explainer Video
Some videos give us a fun opportunity to really get creative with the way we tell their stories. Rocket Communications was the perfect client to use space and the universe as a backdrop to talk about their history and services with developing user experiences. This animated explainer video is another Beau and Jarman special!
Brewing Technology
We hope these have been an eclectic selection of our explainer videos for the tech industry. These are only a small handful of the styles we can brew here. We've got a few more of these Top 5 videos coming your way to give you a good idea of what we can do for you. If you ever want to discuss how we can help take your campaign to the next level with a cool video, reach out to us here!
Let's Brew This!